Strathaven Golf Club is delighted to welcome Calum Lawson to the Club as our new Resident PGA Professional.
Calum started his golf career at Blairgowrie Golf Club before moving to Wellsgreen Golf Range and playing on the Tartan Tour before moving to Elmwood Golf Club. In 2016 he became the Head Teaching Professional at the prestigious Gleneagles Hotel & Resort Golf Acadamy before moving to Linlithgow as their Head Professional.
Why Coaching?
He brings a strong teaching background with him, having been chosen by the PGA of Scotland to promote and teach at the Scottish Open in 2014 & 2015, as well as at the British Womens Open in 2013.
A round on Strathaven Golf Course is the ideal away day to spend time as a team or entertaining your clients. From dedicated society or corporate golf days to corporate tuition, Calum will be able to tailor a package for your specific needs.
Lessons will cover:
Golf Fundamentals
Swing Basics
Short Game
Long Game
Course Management
Gregor Ramsay - Assistant Professional
---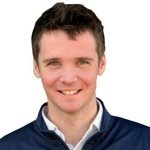 Calum Lawson - Head PGA Professional
Calum Lawson started as Head Professional at Strathaven Golf Club in February 2020 after a 2 year stint at Linlithgow Golf Club. Calum turned Professional 12 years ago and brings a wealth of experience from some of Scotland's finest Golfing Facilities. After holding positions at The Blairgowrie Golf as well as The Gleneagles Golf Academy, he is accustomed to providing an elite service in all aspects of Golf Operations and put this in place at his previous role at Linlithgow. As a coach Calum enjoys the challenge of helping anyone improve their Golf and enjoy the game as much as possible. Calum teaches fellow Professionals who have won on the Tartan Tour down to complete beginners and everyone in between. "The most important aspect of golf for any player is to have fun, I hope my coaching helps you to improve and ultimately enjoy the game that little bit more." He is also a very experienced Custom Fitter after being the Head Fitter at Gleneagles, ensuring a high standard of fitting will be achieved at Strathaven Golf Club. Calum stocks the latest in Golfing Technology and will custom fit for all clubs, including putters! Calum stocks the leading brands in Golf from Hardware, Apparel, Electric Trollies, Golf Balls and Accessories. Everyone is welcomed at Strathaven Golf Club and that is no different at the Professional Shop so please feel free to get in contact anytime and Calum and his team looks forward to helping you in anyway.
---